WHO WE ARE
The Implant Dentistry- Study Consortium (IDSC) was founded on December 8, 2000, in Dubai UAE. Dr. Souheil Hussaini, a USA-trained prosthodontist had recognized the need for a comprehensive program to train local dentists intensively in Implant Dentistry. A group of local prominent dentists and health officials launched the program in his private office in the Bani-Yas tower in Dubai, UAE. The first group completed the program in December, 2004. The UAE Ministry of Health has now approved an acceleration of the program such that it will be completed in one year's time. A second group has been enrolled and completed in December, 2005. Followed by a third group that completed in April 2006 and a fourth group that will complete in December 2007 consecutively followed by another group every year after.
OUR GROWTH
Implant dentistry is now recognized as an important modality in oral health care. Nevertheless, the majority of dentists have received little or no training in this discipline. The dental schools have been leisurely to incorporate training in implant dentistry in their curricula. Because implant dentistry is a multidisciplinary treatment, some practitioners find it difficult to master the techniques without formal training. Unfortunately, there are very few intensive clinical training programs available and that is certainly true in the Middle East countries. The IDSC has been developed to fulfill a specific need. That is to provide current practitioners in the Middle East, without implantology training, an opportunity to develop the knowledge base and skills necessary for the surgical placement and restoration of dental implants.
Oral Implant Research Institute
OIRI Mission
The educational materials we produce for the young-minded dentist in the area of dental implant language, at whatever level of proficiency, strive to create within them the moral structures that will underlie their decisions and guide their action as they mature into more experienced dentists and active health care providers of society.

It is anticipated that the IDSC will produce a cadre of trained dentists to further raise the clinical standards for oral care in the UAE and surrounding countries. Furthermore, both the IDSC organization and its graduates can also have a beneficial effect on the dental schools in the region by providing a source of trained faculty for didactic and clinical instruction.


The 2nd batch graduation ceremony for completing module 3 of the IDSC program in 2003 accredited from New Jersey Dental School.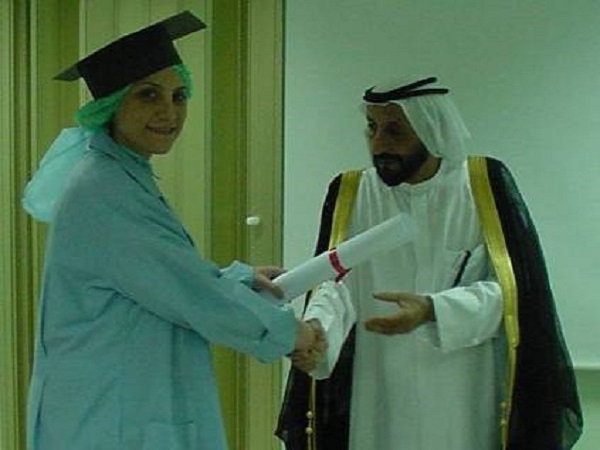 With the patronage of late Sh. Dalmuk Bin Jumma Al Maktoom one of the graduates from Qatar receiving her certificate.
Oral Implant Research Institute
Highlights
Dental Implantology and Oral care services is a continually advancing discipline in Dentistry. And its use and application have grown rapidly in the UAE and Middle East region.
ID-SC organization and all its branches comprise of 2 clinical facilities namely, OIMC (Oral Implantology Medical Centre) and MDC (Marina Dental Centre) that are attached to an institute namely, OIRI (Oral Implantology Research Institute) where these 3 facilities combined are referred to as OIMC group.
OIMC group is the only DHA approved and ADA approved dental clinic that has license for clinical live patient training in UAE that can provide regular updating training programs available in the Middle East countries that community physician's dentists who wish to pursue their post-graduate carrier in this field and provide services to their patients have to use our facility. This advantage can be carried out to any Hospital affiliated to us.
Treatment Graphical Demostration
Treatment Specialties
Specialties rendering Treatment
Periodontics
Prosthodontics
Orthodontics
Endodontics
Oral Surgery
Pediatric Dentistry
Special Needs care mobile facility.
We render the following treatment options:
State-of-the-art facility
- Nitrous oxide sedation
- Accelerated Osseointegration with low-level laser therapy
- Emergency treatment
- Root canal treatment with CBCT and Microscope
- Crowns and veneers (Hollywood smile)
- Cosmetic filling
- LASER Teeth whitening
- Gum treatment and oral hygiene
- TMD therapy
- Wisdom Impaction
- Wisdom Impaction
- Dental implants
- All on 4
- Orthodontic treatment
- Removable dentures

- Digital impressions
- Sleep apnea and snoring treatment.
- DIGITAL XRAYS
- CBCT SCANNER
- Microscope
- Digital impression
- Piezo Motor and Tips for bone harvesting and scaling
- Osstell for implant stability testing
- Intraoral welder for full mouth Immediate loading
- BonMaker to extract the tooth and immediately convert it to bone particulate material for harvesting bony defects
- Universal osteotomy stopper kit
- Universal Implant carrier to place an implant system in the world
- Platelet Rich Fibrin (PRF) centrifuge
- Bone Splitter Kit for very thin jaws
- Sinus Lift Instrument
- Bone spreader kit for bone expansion
- Bone Block Carrier for big defects grafting
- Trephine Drills to harvest Autogenic donor site
- Bone chisels and Mallet
- Titanium Mesh and fixing screws